JR & SR HIGH SCHOOL (7-12)
We help each student, as an image-bearer of God, discover and develop his or her individual worth, talents, gifts, and responsibilities.
Calvary Christian Academy High School!
The training of our students incorporates every aspect of learning: sharpening the mind and learning to think critically (academically); nurturing an authentic faith and life of compassion by softening hearts (spiritually); and putting God-given gifts to work in the world of service (serving physically).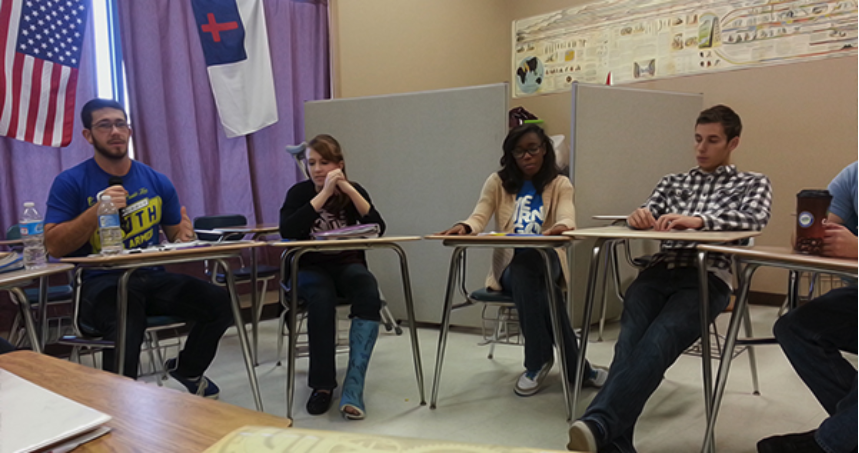 We are proud of our committed Christian teaching faculty, over one half of whom have their masters degree. We offer a good selection of courses from career development, business and entrepreneurship, environmental science, physics, pre-calculus, and college-level classes through our dual-credit program. Our own highly qualified teaching staff teach dual-credit college classes through a partnership with Cairn University in Philadelphia.
We provide opportunities for students to be involved in a variety of ministry opportunities, which will help solidify their faith and help them "stand firm" in secular colleges and universities.
PROGRAMS/ACCOMPLISHMENTS
Ann Burton Scholarship – to take college classes as a junior and/or senior
Boys' State
Girls' State
Essay Contests
Envirothon state competition
Fine Arts
Governors School of Excellence
History Fair
Kent County Youth Philanthropy Board
National Young Leaders Conference – Washington, DC
Odyssey of the Mind
Patriot's Academy
Patriots' Pen
People to People (Europe)
Poetry Contests
Scholastics Art and Writing
School Athletics
Science Internships
Student Praise and Worship Team
Voice of Democracy


Over 93% of our students have been accepted into colleges and universities from Penn State, University of Delaware, Rutgers, Cedarville, and Biola University in California. However, all of our graduates have qualified to attend college, but some have pursued God's will in full time military service, trades, and family businesses. Our goal is to prepare students to be world changers in whatever vocation or life calling they feel God is leading them to fulfill.
In partnership with parents, we are…Shaping Lives for Eternity through Sharpening Minds, Softening Hearts and Serving Community.