Calvary Christian Academy's pre-school program (K2 – K4) offers a fully developed Christian education to students 2.5 – 4 year olds.
Calvary Christian Academy Pre-school
Loving Kids Since 1985
CCA's Preschool Program serves children 2.5 through 4 years of age.  Our program offers a three or five-day option as well as ½  or extended day. We provide a safe, loving nurturing environment for our students.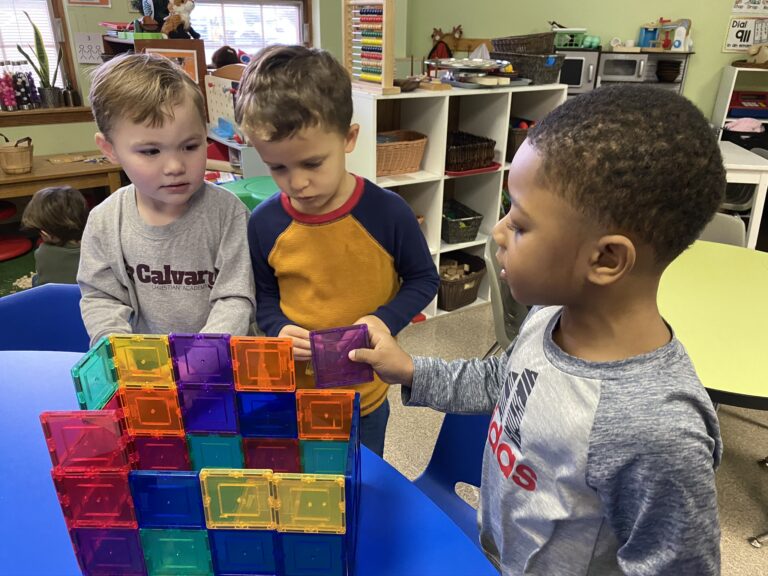 A strong biblical foundation is key here at CCA Preschool. Our day is infused with God's word and influence from the Fruit of the Spirit to the 10 Commandments. Students learn Bible stories/lessons & hear God's word (scripture) daily. In addition, we have a fun, engaging weekly Chapel service specifically geared to our Preschool students.  
CCA Preschool's Program takes the whole child approach to education ~ your child will have learning opportunities for the Bible, math, science, and literacy. In addition to building important social-emotional, physical and cognitive (critical thinking) skills. This developmentally appropriate approach lays the foundation for life beyond the classroom. 
We use several curriculum resources within our Program including The Creative Curriculum®, Handwriting Without Tears, and the Beginners Bible. In addition, Teaching Strategies Gold, an observation-based assessment, is used to measure/track individual student progress in all areas of development.  
All students will have a snack and recess each day. We view our outdoor recess time as an extension of the classroom. Opportunities for gross & fine motor, hand-eye coordination, cooperative play, and much more are incorporated in our outdoor recess time. Art and music are incorporated daily as well. Extended Day students will have a rest period in the afternoon.  
Our teachers keep their families informed and updated on classroom activities, progress, pictures, etc through apps such as Remind/Classtag or email. Weekly or monthly Newsletters / Calendars also help keep families connected as well.  
We value the relationships and partnerships with our families and look forward to serving yours! 

Our Program Options
We currently offer both a 3 and a 5 day program. Our day starts at 8:30am and goes until 12pm with the option of staying past 12pm for extended care.
Before School Care: starts at 6:30 a.m. through 8:15 a.m. Click here for pricing.
Extended Care: starts at 12 noon through 3:15 p.m. Since preschool students are either half day or full day tuition, this extended care program is designed for occasional care when needed.  We simply ask that parents notify the teacher as soon as possible to ensure the child has a lunch. 

After School Care:

 starts at 3:15 p.m. and ends at 5:30 p.m. See the tuition spreadsheet for pricing.
Exciting Field Trips